Risk and Analytics Grad Student Looks Forward, Gives Back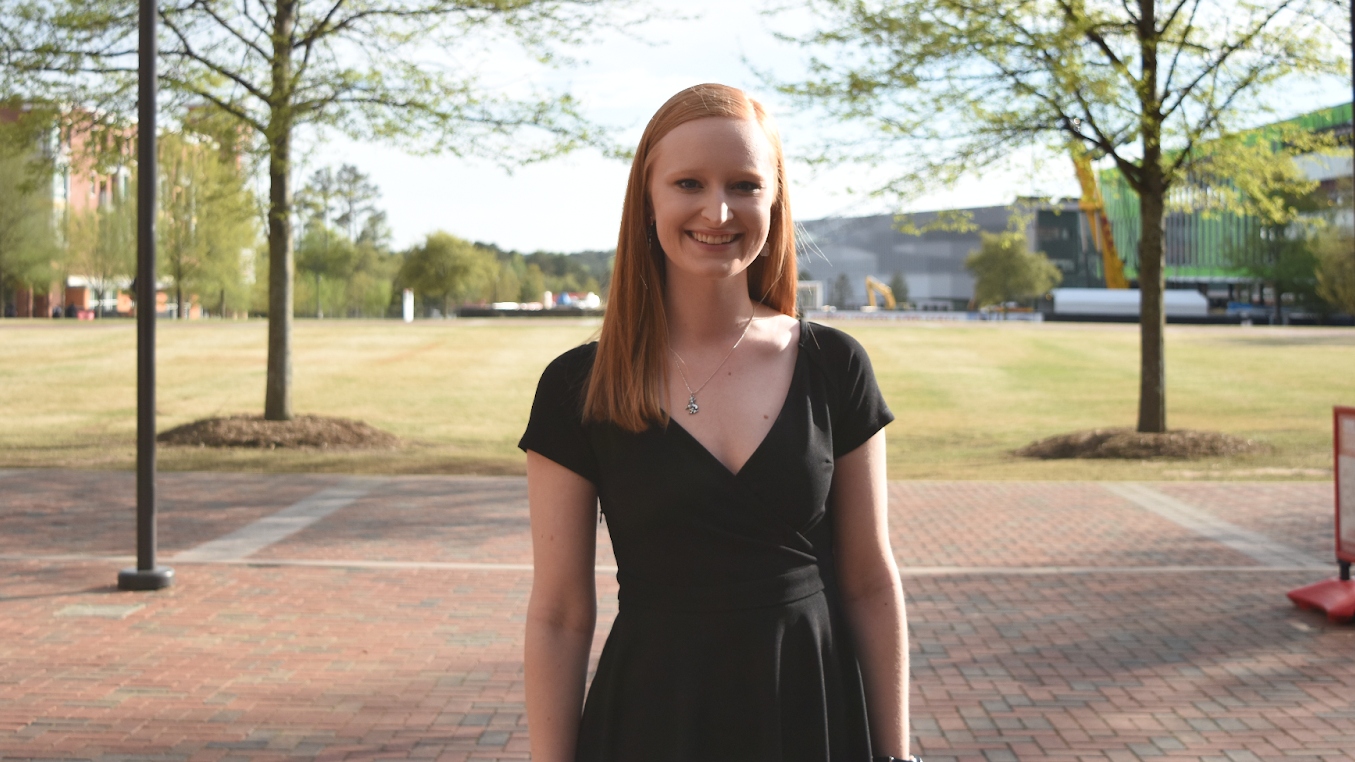 By Samantha Beavers
While growing up in Western North Carolina, Master of Management, Risk and Analytics (MRA) student Amy Bandy took an early interest in science and healthcare. The daughter of an eye doctor, she loved hearing her dad explain the science behind eyes and how to calculate eye prescriptions. As she considered her career options, however, she knew that becoming a doctor wasn't the right fit.
"Though I've been interested in healthcare for most of my life, being on the patient-facing side of it has never really appealed to me. I've always been more drawn to background roles, which is why I decided to pursue biomedical engineering in undergrad," Bandy explains.

She completed her bachelor's degree in the Joint Department of Biomedical Engineering at NC State and the University of North Carolina (UNC) at Chapel Hill, a collaborative program that allows students to leverage facilities and research opportunities at both campuses. Her diploma bears both university seals, but at the end of the day, Bandy calls NC State home.

"When I first stepped on campus for a tour, I immediately knew it was where I wanted to be, so I made NC State my home base – although I did take advantage of the opportunity to take a few courses at UNC as well. I only went to Chapel Hill during the summers, though, so nobody had to know," she laughs, speaking of the rivalry between universities.
Bandy also served on NC State's Engineering Ambassador Team, an opportunity given to highly qualified students in the College of Engineering. As an ambassador, she worked as a teaching assistant for Engineering 101 and 102, participated in weekly STEM outreach events to K-12 students, led information sessions for prospective engineering students and helped coordinate events on campus – including University Open House and College of Engineering Open House.

"Being an ambassador was a really big part of my college experience and gave me a lot of leadership opportunities," Bandy says. "And I think it's what helped me see that leadership is something I really thrive in. I'm the type of leader who not only likes to make sure a project gets done on time and within budget, but also likes to give other people their place to shine."

That opportunity to help others succeed, she explains, is something she enjoys most about her job as a business analyst with Allscripts, a healthcare IT company. In addition to leading training and onboarding for new business analysts, Bandy works with developers to make improvements to Allscripts' applications for electronic health records (EHR). Specifically, Bandy works with Allscripts' Professional EHR™ for ambulatory care practices – including family medicine, urgent care and primary care practices – to help streamline operations for clinicians. In that sense, it puts her right where her passion is: working behind-the-scenes to deliver better patient care.

"If there's something in the EHR that slows doctors down – even if it's just by two minutes – that adds up and it's going to affect their face-to-face time with patients," Bandy explains. "So, my job is to identify opportunities to make our product better."
As the product owner for the Allscripts Professional EHR™ mobile app, Bandy is responsible for making sure the product meets regulatory requirements, as well as all the ins and outs of product improvement. That includes gathering and analyzing user data to optimize workflows and improve the app's overall performance, as well as maintaining a continuous loop of feedback with doctors, nurses, administrative staff and medical providers to ensure the product meets clients' needs.

"Working alongside user experience designers, I help troubleshoot solutions, make improvements and develop new features. I then write out all the requirements for the feature – including what it needs to do, how it needs to work and how the user will interact with the health record. Once the app is changed and the new version is released to the public, I then meet with clients to show them how we've made improvements based on their feedback," Bandy explains.

Bandy also leveraged analytics to help Allscripts transition the Professional EHR™ pricing model from per-provider to per-patient-per-day – a shift that increased revenue while appealing to new clients, too.

"It was incredible to see the number of factors that play into these kinds of decisions, and that's really what sparked my interest in risk management," she says.

That interest, plus a desire to develop stronger managerial skills in order to be a more effective leader, ultimately led her to the MRA program at the Poole College of Management.
"Coming from the engineering realm, I wanted to dive deeper into the business world and get a foundation in business management. And, because I had such a great experience in undergrad, I knew I wanted to head back to NC State," Bandy says. "I started scrolling on Poole College's website and spotted the new MRA program – and as I looked through the curriculum, I knew it was the right fit. Every single course was exciting to me and something I could see myself using both today and 20 years down the line."

Plus, she saw the program as an opportunity to bridge a critical gap in her industry.

"Risk is something that impacts the healthcare industry every day, but unfortunately, not enough people have the right mindset around it and it's often seen as an afterthought. We really need to be more proactive in identifying risk and developing game plans to mitigate it moving forward," she explains.

Another draw of the program, Bandy says, is that it was designed with working professionals in mind. That flexibility allowed her to remain in her role at Allscripts while simultaneously pursuing her master's degree – and already, she's seeing the benefits.

"Since starting the program, I've seen so many connections between my studies and my day-to-day work. It's been a really great parallel experience so far," she says. "I've also loved the opportunity to learn alongside other industry professionals. Though this is a somewhat niche concentration, it's also broad in terms of the markets it can cross and industries it can affect. So, it's been fun to learn from my cohort's diverse experiences and see everyone's different strengths come into play in the classroom."

Bandy has also appreciated the support from program directors, as well as the various resources available to MRA students, such as career coaching through Jenkins Graduate Programs' Career Management Center. That, plus the Think and Do spirit at NC State, continually inspire her to keep pushing toward her supreme goal of giving back to others.

Thankfully, she says, Allscripts propels her forward in this, too. In addition to having the opportunity to serve others behind the scenes as a business analyst, Bandy has the opportunity to serve communities on the ground through Allscripts' GiveBack Program, which gives employees multiple days off per year to support local charities in their communities. Through the program, she's been able to volunteer with the Food Bank of Central and Eastern North Carolina and other similar organizations.

Beyond the GiveBack Program, Bandy regularly leverages opportunities to give back to those in need. "I try to take every chance I get to volunteer with organizations making an impact in the community, so I often distribute vegetarian meals with Food Not Bombs, a volunteer-led movement, in Moore Square in Downtown Raleigh," she says.

That giving mindset, she explains, is something her parents instilled in her from the very beginning.
"They organized this big community meal for Thanksgiving where they'd gather volunteers and feed around 500 people every other year – so feeding people who might not have the means to feed themselves has kind of always been part of my life," she says.

With the future ahead of her, Bandy plans to carry that mindset wherever she goes – and this year includes some important steps in the journey. In addition to starting the MRA program, she's also starting the process for becoming a foster care parent. So, whether it's on or off the clock, she says, she wants to make a meaningful impact on the world.
"If I'm honest, I've never really been driven by this desire to climb the corporate ladder and claim a spot in the C-suite of a big corporation. What really drives me is a passion to be a strong leader and give myself to causes I'm passionate about."
To learn more about the Master of Management, Risk and Analytics (MRA) program at NC State's Poole College of Management, click here.