Risk and Analytics Student Brings Global Mindset to Poole College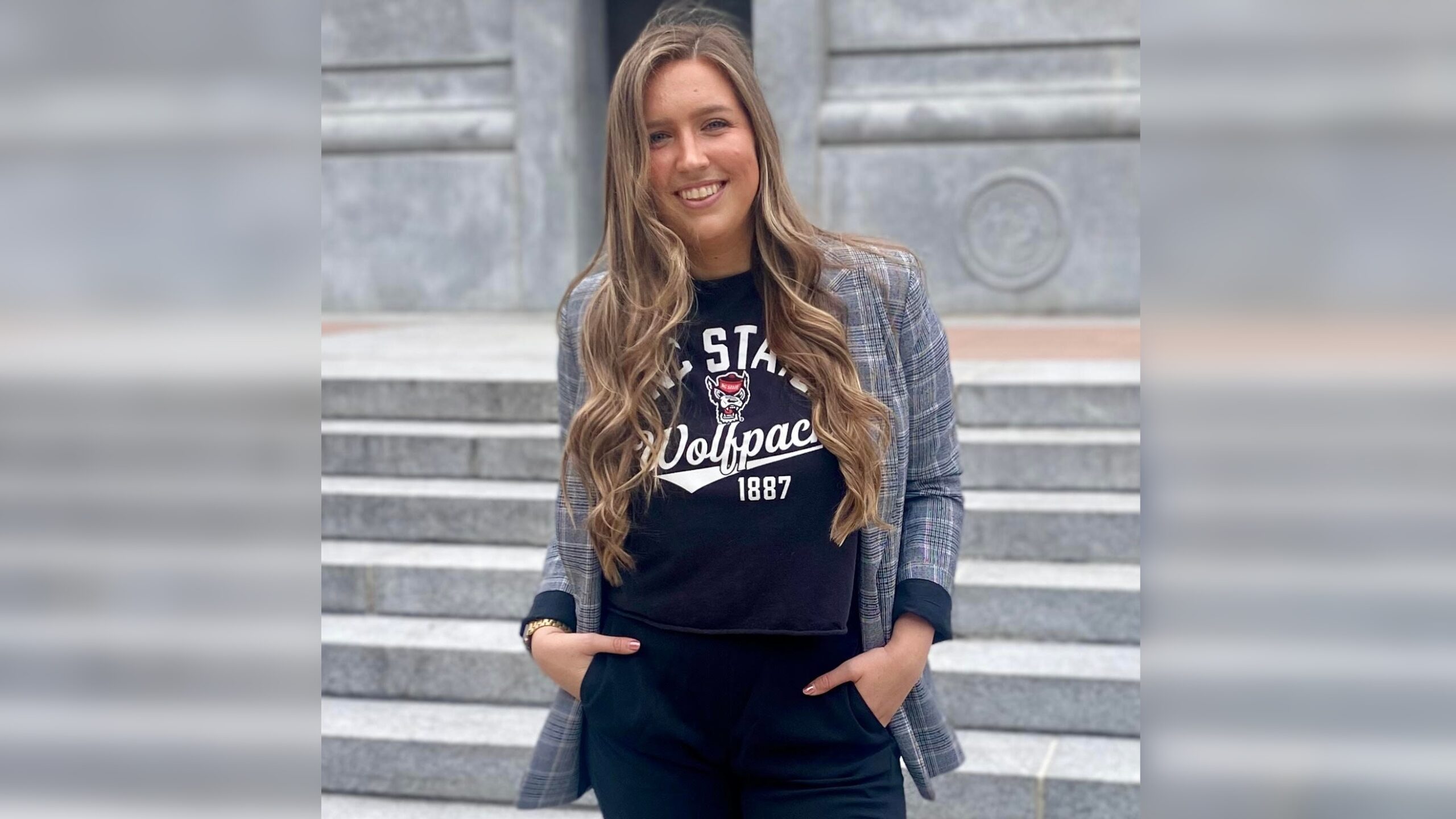 By Samantha Beavers
While growing up in a small town in Connecticut, incoming Master of Management, Risk and Analytics (MRA) student Emily Perzanoski always dreamed of gaining broader, more diverse experiences. That interest led her to American University in Washington, D.C., where she studied international relations and Arabic, learned alongside a diverse student body and discovered a passion for travel and cultural immersion.

"I studied abroad in Amman, Jordan and loved it. Before going to college, I hadn't traveled much internationally, so when I landed in Jordan, I definitely experienced some culture shock," Perzanoski says. "It was a very different experience, but I loved every minute of it – and it helped me to realize that I wanted professional opportunities that enabled similar experiences."
Nearly a decade into her career, Perzanoski has had the privilege of receiving many such opportunities. While working as a risk researcher with Exiger, a company providing technology-enabled solutions to help organizations manage risk and compliance, Perzanoski traveled to the Middle East to support a multi-national client participating in a regulatory monitorship – and in 2019, she relocated to Bucharest, Romania to support Exiger as part of their global expansion efforts.
"I embraced the opportunity to take on a lead operations role in our newly established office in Romania," she says. "During my 18-month stay in Bucharest, I was able to oversee the expansion of our professional team to more than 200 members. They now play a vital role in delivering our core risk and due diligence products to clients worldwide."
Sharpening skills
In addition to international exposure, Perzanoski's career has grown her interest in managing global risk and making data-driven decisions – which ultimately led her to the MRA program at NC State.

"I knew I wanted to further my education in order to focus more on operational risk, but felt that MBA programs aren't nuanced enough for my future goals," she says. "The MRA program's risk curriculum is well-aligned to my interests and the program provides the analytics skills I'm going to need to advance my career." 
As vice president of global commercial resource management at Exiger, Perzanoski oversees a team responsible for leveraging data to allocate work to professionals globally, optimize resource allocation and enhance overall business operations. Recognizing the significance of advanced analytics capabilities, she believes that honing these skills will enable her to drive greater efficiency and make better strategic decisions.

"We have a wealth of valuable data at our disposal," Perzanoski explains. "However, I recognize the criticality of bridging the gap between data abundance and our ability to drive actionable insights from it."

"Businesses in all industries are facing this challenge," she adds. "With the advancement of digitalization and technology, as well as the expanding global landscape, a staggering volume of data has emerged. Many organizations still struggle to harness its true potential. This premise applies to my role within Exiger and in support of our clients as they seek a safer, more prosperous and more transparent corporate world in which to do business."  
Chasing dreams
Looking ahead, Perzanoski has many dreams she hopes to achieve. For one, earning the title of COO is a long-term goal that drives her. As for the more immediate future, she hopes to continue helping Exiger transform the way companies manage risk.

"When I joined Exiger, we embodied a startup mindset, and our rapid growth has been incredible to be part of. It's wonderful to witness how far we've come – but there is still so much untapped potential ahead. I hope to continue playing a pivotal role in driving our continued expansion," Perzanoski says.

"I strongly believe that the MRA program will equip me with the necessary knowledge and skills to excel in such a role. Specifically, I am eager to gain insights into the risks involved in expanding globally and the key considerations businesses must consider when exploring potential locations, such as the legal and regulatory landscapes," she adds.
Expanding perspective 
In addition to strengthening her global business acumen through the MRA curriculum, Perzanoski looks forward to learning from MRA students working in different industries. Prior to submitting her application, she connected with Pete VanGraafeiland and Emily Morford to hear about their experiences in the program and got a taste of the advantages of learning within a diverse cohort.

"It was fascinating to hear from them about lessons learned in the program and how they've applied them to their current roles – and to come across all these synergies in our work. Even though our work looks very different, I could clearly see how those lessons apply across different industries and roles, so I'm very excited about the opportunity to meet students in my cohort and learn from them," she says.

Likewise, Perzanoski looks forward to the opportunity to contribute her own perspective to the classroom. Her experience working with different cultures is something she hopes to bring to the table.

"One thing I've seen while working with clients across the globe is that when they look at risks in their supply chains or with their third parties, they can have very different outlooks. Clients may consider the same lawsuit, regulatory fine or negative article in the media about a company they're working with – but have very different perspectives about what that should mean for their continued business relationship with that organization," she explains.

"I'm very interested in continuing to explore that overlap between risk and culture, and how culture can impact a company's risk threshold – and looking forward to having conversations with other students about some of the things I've experienced while working abroad and supporting clients around the world."

The opportunity to discuss these issues with industry professionals at the Enterprise Risk Management (ERM) Initiative's biannual roundtable events also excites Perzanoski.

"I've talked with Ericka Kranitz about these events and I'm really looking forward to being able to participate in them. I want to dig in and soak up all the opportunities that are available."
To learn more about the Master of Management, Risk and Analytics (MRA) program at NC State's Poole College of Management, click here.